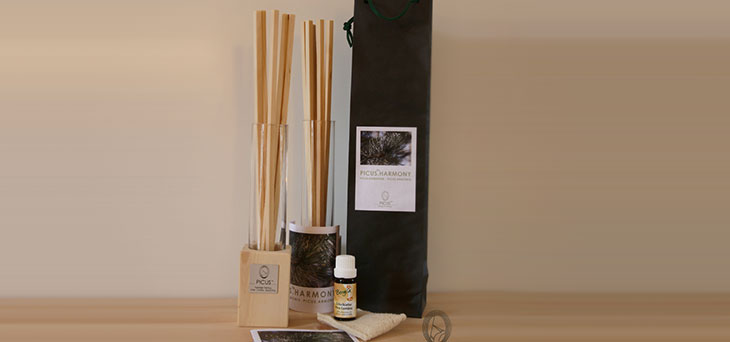 PICUS.HARMONY
… the diffuser – wellbeing for your home.
Put it on a safe place. Fill the vase with water (2/3 full) and put some drops of essential stone pine oil in. The wooden Sticks absorb the water and the essential oil and the aromatic scent exudes in the space. The Swiss pine has a positive effect on your cardiovascular system, soothes your nerves and helps you get a good night's sleep.  The scent keeps moths away. Refill the water every 2 or 3 days and change it once a week. 
POINT OF SALE:
Despar Eppacher, Bahnhofstraße 1, 39039 Niederdorf
Bergila, Weiherplatz 8, 39030 Issing Pfalzen
Biovita Hotel Alpi, Alpe Nemes Straße 5, 39030 Sexten
Online ordering: delivery costs are charged separately.
100 % natural, solid Swiss pine, handmade. Idea and design by Renate Degasper Kamelger.
Price: € 29,00 / Piece, including 1 phial of essential stone-pine oil "Bergila".